CONFERENCE FINISHED. THANK YOU FOR PARTICIPATING!

Lithuania is a unique country – green and flat land in the north of Europe, ashore the Baltic Sea. Lithuania is one of three Baltic countries. The capital of Lithuania – Vilnius, and second largest city Kaunas – has always been a multinational, multilingual, and multicultural European cities. 
Lithuania is referred to as the Center of Europe by its cultural criteria. A lot of beautiful and pristine nature, fascinating cities, clean air, security, friendly people, eventful, and pulsating cultural life. While many pagan and folk traditions that are still alive in villages, big cities are rich with vibrant cultural life and endless entertainment opportunities. Great number of museums have accumulated huge collections, national and private art galleries, the never-ending buzz of theatre and music halls, fascinating nightlife, a variety of entertainment options and sports events. Plenty of activities and opportunities to be enjoyed and explored both in summer and winter in Lithuania. 
Total area: 65,300 sq. km or 25,174 sq. miles
Population: 2 848 000
Language: Lithuanian
National Currency: Euro (€)
Local time: GMT + 2 hours
International telephone code: +370
Geographical location: The Republic of Lithuania lies on the eastern coast of the Baltic Sea
Neighbour countries: Latvia, Russia, Poland and Belarus
Government: Democratic Republic
Ethnicity: Lithuanian – 83.5%, Polish – 6.7%, Russian – 6.3%, Belarusian – 1.2%, other – 2.3%
Religion: Predominantly Roman Catholic (approximately 80% of the total population)
Electricity: 220 V, 50 Hz. European style 2-pin plugs
Climate: Oceanic/continental. Average temperature in July is +17°C, in January -4.9°C. However, temperatures can soar up to +30°C in summer, and drop down to -32°C in winter
More information about Lithuania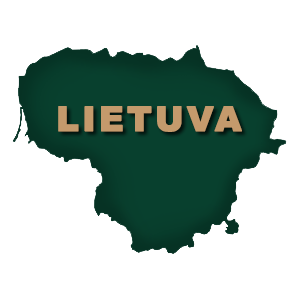 You are Welcome to Lithuania